Industrial & Commercial Development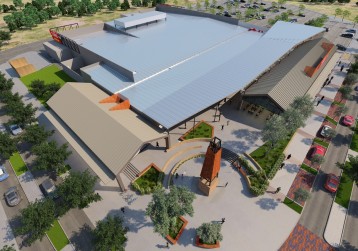 Industrial and commercial development projects are a core part of Western Australia's robust economy, from commercial centres adding vibrance to Perth suburbs through to water, roads and other infrastructure that allows communities to grow.
Serling Consultants support these projects with a combined 130 years of experience as trusted development engineering consultants.
Industrial & Commercial Project Planning & Development
Our wide range of experience covers every area of commercial land development, from initial planning and feasibility and specialising in project management.
Serling Consultants' development engineering consultant services include:
Project Planning
Feasibility assessments
Site identification
Sewerage and water master planning
Engineering design and documentation
Detailed designs
Project Management
Tender management
Contractor management
Scheduling and efficiency
Cost reduction
Government, local authority and stakeholder engagement
Order of Probable development costs
Project Development
Expansion planning
Innovative project solutions including water and sewerage
Skilled workforce
Portfolio development
Technical guidance
Our Process
Industrial developments are exceptionally large and complex projects involving many moving parts and a network of service providers.
With decades of experience managing industrial development projects in Western Australia, the expertise of Serling Consulting's leadership team will ensure the entire project is handled with the necessary knowledge and skill.
Our team and contractor network provide bespoke services ranging from engineering consulting to strategic support and technical services, often serving in advisory roles for commercial and industrial development and expansion projects throughout Western Australia.
Our dedication to quality at every stage of the development process has awarded Serling Consulting recognition by acceptance on several industry panels including:
LandCorp Civil Engineering panel as a Tier 2 engineer to undertake projects in excess of $50M
Water Corporation Infrastructure panel of Prequalified Developer's Engineering Consultants
WALGA Provision of Engineering Consultancy Services panel for the in the categories of water management and road, pavement and footpath
PTA – Railway Infrastructure panel
Our Industrial & Commercial Projects
Serling Consulting provide more than civil engineering and development engineering consulting. Recently our team has provided project management, design, feasibility and technical innovations for a range of commercial and industrial projects including:
Re-alignment of Simpson Avenue, Rockingham
Reporting on feasibility of servicing for Coles Group Property Developments Limited, various sites
Rockingham City Centre, City of Rockingham
Subiaco Town Centre public realm design and streetscape enhancement, City of Subiaco
Halls Head Central Development and Expansion Project, Halls Head
Redevelopment of 404 Orrong Road, Welshpool
This is just a snapshot of the high-quality work Serling Consulting have provided for Western Australian commercial and industrial development clients. See our project portfolio for more.
Led by senior management holding over 40 years of experience, the long list of projects our team have been involved in features high profile work in every corner of our state.
Your Trusted Urban Land Consultants
With over 130 years of combined knowledge, the Serling Consulting team have a reputation for providing high quality development engineering consulting services, including experienced project managers and technical innovation to solve the toughest commercial and industrial development problems.
We understand the economic importance of delivering large scale projects on time and on budget. To learn more about the services we provide contact the Serling Consulting team.